Round mirrors...wow...the possibilities are endless! Be creative! I was inspired by the circles on the bedding in my guest room to add round mirrors to the decor. I went with a random pattern and think it turned out awesome!
All of the mirrors came from Target and were very reasonably priced. The large mirror is an
18" beveled mirror
and was $19.99. The other
7 mirrors
came together in a set also for only $19.99. The large mirror is big enough to actually be functional. I had been challenged with what to put on the walls in this room for a long time and I am very happy with the mirror grouping...gets me a little closer to "finishing" this room!
Other round mirror ideas and inspirations:
•
cb2
has a 5 mirror set framed in aluminum...very cool. Check out the room view pictures for some creative ideas. This one is my favorite...so orginal!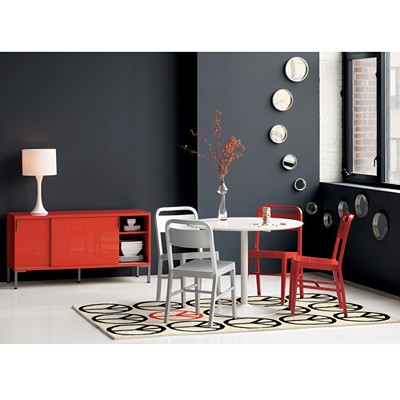 • Target also sells a
9 piece mirror set
that are all the same size. Very cool look.
• A vertical grouping idea: